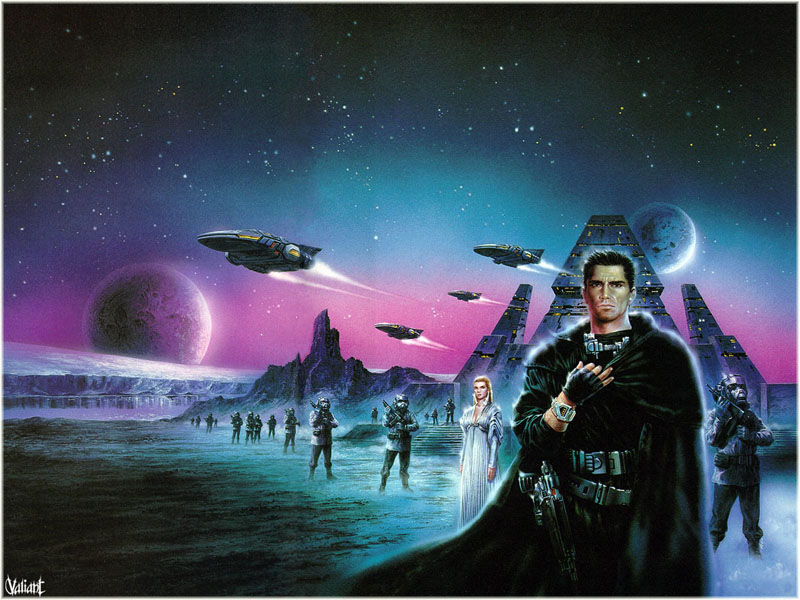 Artist for this Picture, Luis Royo, Tilte "Dorsaia 1"
Captain Vincent Durham and Commander Georgia Robinson
Stats:
Name:Vincent Durham
Nicknames:Durham, Vinney
Sex:Male
Race:Human
Age:25
Height:6'0"
Weight:75kg
Hair:Brown/blonde
Eye color:Brown
Appearance:Chiselled features
Occupation:Star fleet Officer in past, now dead under unusual circumstances
Birthplace:Mars colony station
Outward attitude:Respectful
Inward Nature:Driven
Weapons:Phaser, repeater, light sabre, lasagne maker, snipers rifle
Abilities:None
Spells:None
Creatures/Familars/Pets:None
Special Notes:None

Stats:
Name:Georgia Robinson
Nicknames:Georgie, G, Rob, Missey
Sex:Female
Race:Human (born)
Age:20
Height:5'7"
Weight:55kg
Hair: Blonde
Eye color:Blue
Appearance:Attractive
Occupation:Once starfleet officer and captain, now unknown
Birthplace:Fantasy
Outward attitude:Quiet, gentle
Inward Nature:Gentle
Weapons:As for Vincent Durham
Abilities:Advanced telepathy
Spells:None
Creatures/Familiars/Pets:None
Special Notes:Graduated top of her class in all fields, first to do so.

Copyright Anna Marie Hoyer, All Rights Reserved. All Artwork found within the pages is copyright the original artist. All Poetry within the pages copyright the orignal writer, All character biographys copyright the player of the character and used here with their permission. All titles done by Vermillion Draven and Gem Bluestone. Page layouts created and made by Anna Marie Hoyer. This page is a Non Profit, For entertainment only page. Do NOT take from my page unless you have prior written consent from the artists.
Head to Main Page